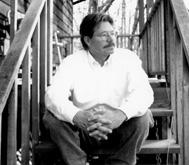 Judges have selected Walter Bargen's "The Feast"
for this year's William Rockhill Nelson Award for poetry.
The honor recognizes literary excellence by
Kansas and Missouri authors.
His poems and fictions have appeared in over one hundred magazines, including American Literary Review, American Letters & Commentary, Beloit Poetry Journal, Denver Quarterly, Georgia Review, International Quarterly, Missouri Review, New Letters, New Novel Review, Pleiades, Poetry Northwest, River Styx, Seneca Review, Sycamore Review, and Witness.  He is the recipient of a National Endowment for theArts poetry fellowship (1991); winner of the Quarter After Eight Prose Prize (1996), the Hanks Prize (1996), and the Chester H. Jones Foundation poetry prize (1997).
Contact
Walter Bargen
PO Box 19
Ashland, MO 65010
Phone 573 657-2636
email:walter.bargen@gmail.com